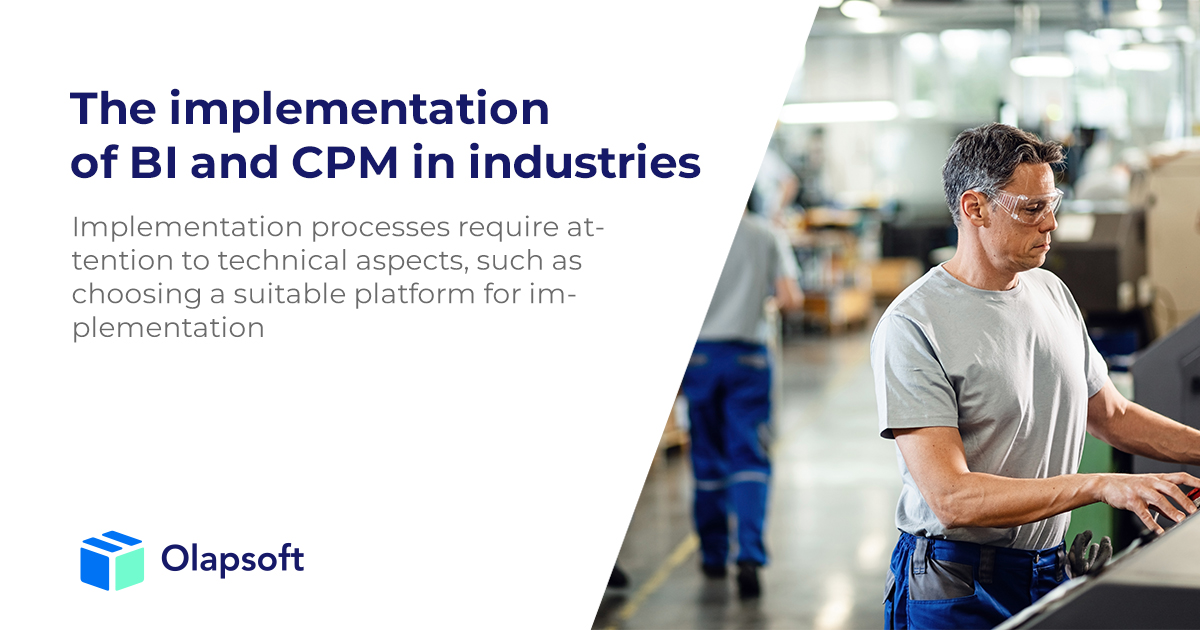 Today we will tell you how the usage of BI and CPM platforms in industries will affect. ERP systems (Enterprise Resource Planning) are used in production, they participate in the creation of two large blocks: planning and accounting of operations (accounting).
And as a result , the following phenomena are common in product companies:
Different processes are organized in different systems. For example, accounting and part of planning in ERP, another, lower-level part of planning by units of equipment – in MES. Quality or HR management – in their own special systems.
In holding structures, each enterprise has its own set of systems from different vendors.
Widespread use of Excel.
It is in such cases that CPM and BI class systems come to the rescue. They were created initially to aggregate data from a variety of sources, describe the synergies between data and manage payments and reporting.
In addition, there are often tasks in production that ERP systems usually do not solve, but they can also be solved in CPM systems. Calculation of any summary indicators (for example, OEE), organization of SCM, predictive analysis of nonconforming products, prediction of equipment failures, prediction of product breakdowns in operation, S&OP and IBP.
Implementation can bring a number of advantages, such as:
Calculated decision-making: analysts will be able to get more complete information on business processes, which in turn helps to make more informed decisions.
Increase efficiency: implementation will help identify and optimize processes, improving efficiency and reducing costs.
Improving competitiveness: BI and CPM help enterprises to respond faster to changes in the market and business environment, which improves their competitiveness.
Implementation processes require attention to technical aspects, such as choosing a suitable platform for implementation, as well as developing an effective implementation strategy. Enterprises should also take into account potential problems and risks, such as the complexity of implementation or the loss of critical data.
What you need to prepare:
Get the data. We upload all the company's indicators, the analysis of which may affect the efficiency of production.
Decide which dashboards you need for monitoring. For example, you can analyze:
Plan-fact analysis of output;
WIP (Work in progress);
Analysis of quality indicators (defects, accepted, the proportion of as-built parts on the due date, without quality claims, etc.)
Profit and Loss Statement, cash flow analysis;
Equipment efficiency;
Capacity of production (by teams, by quantity.
Output products and in the context of articles);
ABC-analysis of output;
Purchases (by brands, suppliers);
Stock balance (by manufacturers, by the cost of goods in stock, rotation, and so on);
The choice of KPI. At this stage, it is important to conduct interviews with colleagues who will use the
Examples of KPI:
% of nonconforming products;
Execution of orders (for production, purchase, relocation, maintenance) on time and in full;
% of waste;
FTT and components;
OEE and components;
OTIF and components;
Execution of consumption rates of material assets;
Deviations from technological modes;
Warehouse stock and WIP, rotation, share of illiquid material assets
The effect of kaizen events;
The classic plan-actual according to various indicators;
The percentage of deviations from the release rate and much more.
Data visualization and analytics:
Identify target audiences (CEOs, finance directors, branch managers, production managers and marketers);
Write a Use Case;
Draw a prototype;
Approve the prototype with the person who will use the panel. For example, it will be found that he does not want a bar chart, but a line graph;
After all the adjustments, get to work.
BI and CPM platforms can bring significant benefits to manufacturing enterprises. They will help to improve efficiency, increase competitiveness, optimize business processes and increase the quality of goods or services produced. However, enterprises should carefully plan and implement these solutions in order to minimize risks and ensure their effective use. It is also important to ensure that staff receive the necessary skills and tools to work effectively with these solutions. It is important to work with a professional partner who has experience in implementing BI and CPM and can offer effective solutions and support during the implementation process.
Ultimately, the introduction of BI and CPM helps enterprises become more adaptable, efficient and competitive in today's dynamic economy. This is an important step for the company development and ensuring its success in the long term.